Rayjet 300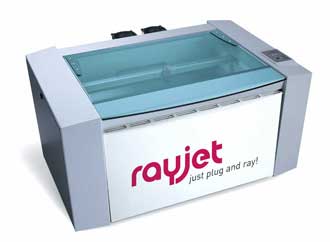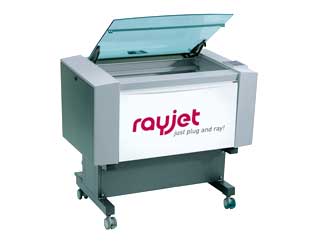 The Rayjet 300 is the upgraded version of the Rayjet standard model. Up to 80 watt laser power and a workspace with 726 x 432 mm size makes it the ideal laser engraver for demanding applications. Rayjet machines are the perfect solution for education providers, ask about the incentives available for purchasing.
A compact laser for demanding entry level user
Suitable for entry level users as well as professional engravers.
Speedy, the fastest and most productive laser machines in the market.
Closed construction, essential components are protected from dirt and dust. This is why you can operate without virtually any maintenance and cleaning requirements.
Low maintenance costs result in higher up-time and lowest cost of ownership.
CO₂ laser system.
Work Area, 726 x 432mm
Max Height Workpeice, 200mm
Laser Power CO₂, 80 Watts
Overall Dimensions, 1090 x 890 x 590 mm
Weight, 135kg